Creating an outdoor living space will give you an extra "room" to enjoy in all types of weather, even as the temperatures drop. You can start small with an inexpensive patio set and charcoal grill on a new deck, go all out with a fully installed kitchen, fireplace and living room, or something in between. It depends on your budget and how you plan to use the space. Here are some great ideas for your perfect outdoor living space that will allow you to enjoy your backyard in style with family and friends all year long.
Deck
It's the foundation of your outdoor space. Using real wood for your deck is the key to creating a natural, beautiful outdoor living space. It's important to find a deck that is resistant to rot, decay and insects so it lasts a long time with minimum maintenance. It's should also durable, yet surprisingly lightweight so it's easy to work with. Here at Brown Interiors we can help you design a perfect deck and find materials that fit your style and budget.
Fire
There's nothing cozier on a crisp night than curling up in front of the fire. Adding a fire element to your outdoor room creates the same sort of ambiance. Imagine gazing up at the sky on a dark, starry night while sitting in front of the fire and you've got the idea. You'll find a wide variety to choose from, including decorative metal fire pits or bowls; chimeneas, which are earthenware or stone outdoor fireplaces; or full-blown, permanent fireplaces like you might find inside the house. Whatever you choose, the crackling fire will draw people and create a focal point for conversation and reflection. Added bonus: It will provide a heat source for chilly nights.
Outdoor kitchen
You can go big, creating a second full kitchen alfresco with a high-end gas grill, a wood-burning pizza oven, a fridge, a sink, storage for dishes and utensils, and a countertop for prep, or you can go small, with a simple grill. Either way, it's essential to be able to cook outside so you won't be stuck in your home's kitchen preparing dinner while your family and friends chat on the deck.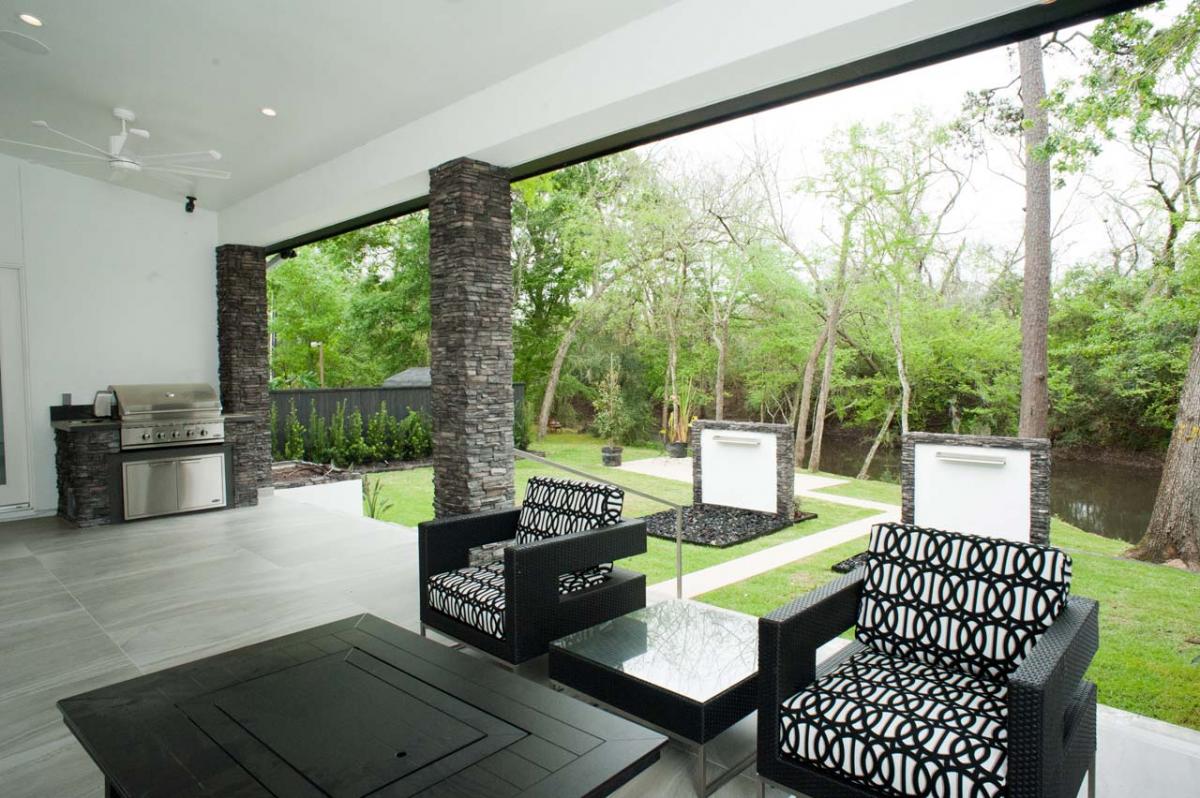 Furniture
A patio table and comfortable chairs are a must, as are some great, comfy chairs positioned around your fire source. But beyond that, think about how you'll use the space. Does a chaise or two for lounging with a book and a cold beverage make sense? What about an outdoor sofa and chairs to create more of a living room–type feel? Whatever you choose, comfort, durability in all types of weather, and the size (not too big or too small) are prime considerations. Check out our selection of furniture in our
online furniture store
Shelter
In addition to the standard umbrella for your patio table, creating shelter for your outdoor space lets you enjoy it in all types of weather. The sky is the limit on your choices: a simple wood and fabric canopy to shade your seating area, a more structured gazebo complete with mosquito netting, a decorative wooden pergola, or an outdoor sunroom or solarium that attaches to your home's exterior wall. We have professional designers at Brown Interiors to create your crete your dream outdoor space.
Contact us today!
Landscaping
The final touch is the yard beyond your deck. Extend your outdoor space with a patio, create a walking path with stone pavers, or add shrubs, plants and flowers that will cycle and change with the seasons, giving your space a fresh look as the months go by.